Tank Types
The Brown Davis Long Range Fuel Tank range consists of 3 main types. These are designed to best suit specific vehicles and the users applications.
Replacement System
Replacement Long range tanks are designed to replace the vehicles standard fuel tank with an increased fuel capacity. The tank is a simple bolt in solution to increase your vehicles driving range. On the current model dual cab ute range the fuel capacity increase is around 1 00%. Replacement fuel tanks are designed to minimise vehicle modifications utilising the standard fuel gauge, pump assembly and fill point for a simple installation. All Brown Davis fuel tanks come with a flush mounted drain plug for easy draining in the event of contaminated fuel. The tanks come with all parts and hardware supplied.
Transfer System
This system is designed to pump the fuel from the Brown Davis auxiliary fuel tank into the vehicles standard fuel tank. At the flick of a switch, fuel will replenish your vehicles standard tank, which in turn is then fed to the engine. An LED gauge is supplied to show the driver the fuel level of the auxiliary fuel tank at all times. When the auxiliary tank becomes empty an automatic alarm will sound to alert the driver to switch the pump system off. This prevents the pump from continuously running, preventing fuel pump failure. All parts and hardware for installation are supplied.
Independent System
This system is designed as a changeover system, which means at the flick of a switch the driver can independently feed the engine directly from the vehicles main tank or the Brown Davis auxiliary tank. This allows the operator to empty either tank to evenly distribute weight across the vehicle. (ie: empty the rear tank first for towing purposes.) This is the same system as used in the early Land Cruiser 79 series single cabs and 100 series with twin tanks. All parts and hardware for installation are supplied.
AUXILIARY FUEL TANK GAUGE AND BUZZER
Fuel pumps burning out is now a thing of the past. Brown Davis has developed a new auxiliary fuel tank gauge, switch and buzzer unit to be supplied with most Brown Davis auxiliary transfer fuel tanks. the small unit is no bigger then a 10 cent coin and can be mounted nicely in vehicles dashes.
HOW IT WORKS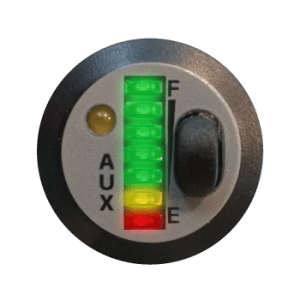 TANK FULL – FUEL NOT TRANSFERRING
THE LED GAUGE WILL SHOW TANK LEVEL AT ALL TIMES EVEN IF PUMP IS NOT RUNNING.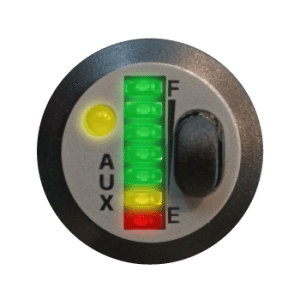 TANK FULL – FUEL TRANSFERRING
WHEN BUTTON IS PRESSED THE PUMP WILL BEGIN TRANSFERRING FUEL ACROSS TO YOUR VEHICLES MAIN TANK. THE ROUND YELLOW LED LIGHT SHOWS PUMP IS RUNNING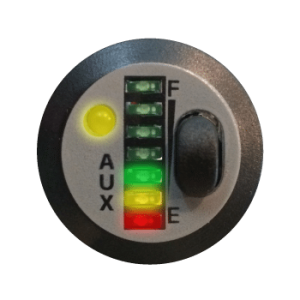 TANK HALF FULL – FUEL TRANSFERRING
AS FUEL IS BEING TRANSFERRED ACROSS THE LED LIGHTS WILL SHOW FUEL LEVEL REMAINING IN YOUR AUXILIARY TANK. AT ANY STAGE YOU CAN PRESS THE BUTTON AND STOP THE TRANSFER OF FUEL.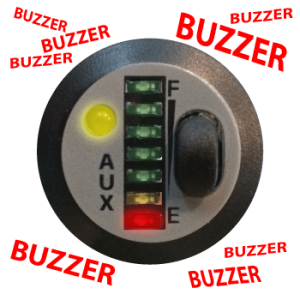 TANK EMPTY – FUEL TRANSFERRING
WHEN TANK IS COMPLETELY EMPTY A BUZZER WILL SOUND AS A REMINDED TO TURN THE PUMP OFF. LEAVING FUEL PUMPS ON FOR LONG PERIODS OF TIME CAN BURN THEM OUT